COMMUNITY KIDS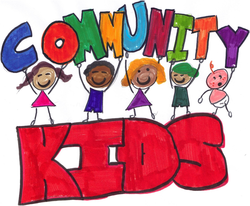 The Community Kids is our Sunday School program meeting the spiritual needs of children from birth to 6th grade.
Our program is based around a Bible based curriculum and taught by dedicated volunteers who are passionate about seeing Christ in our children.
We have weekly Sunday school opportunities for all grades and once a month we have an exciting evening called Second Friday.
Second Friday is a VBS style evening full of games, singing, drama, missionary stories, crafts and biblical teachings.
---

To be involved in this ministry requires:


· A heart sincerely devoted to God
· The willingness to be a team player
· And the boldness to be a witness for Christ.

· Commitment to be consistent in attendance
· To develop relationships with our students

Community Kids Praise Team: this is a fun and energetic group that works with the children during Sunday School to help them give Praise to the Lord. If you would like to audition for this ministry, please contact the church office for an audition date.


If you would like to be involved with Community Kids please call the church office at 856.327.2222 or email Sam Rempel at:
sam@ccccmillville.org